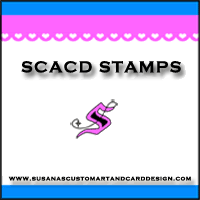 Welcome to the SCACD blog hop and Peekers release!
As always - just in case you get lost - here's the blog hop order:
Kim
-
Elaine
-
Kim
-
Mary
-
Marti
-
Judy
-
Danni
-
Lorraine
-
Mary Lou
-
Kim
-
Dianne
-
Alex
-
Colleen
-
Suzanne
-
Carolyn
-
Anki
(me ;-) -
Crystal
Today I got the honor to present the "
New Beginnings Peeker
"
Aren't they too cute?? Coloured the image with my
copics
. Then I've used - one of my new fav DPs as you might have noticed ;-) -
Pink Paislee Swetness Petite
. Cut the image out with my
nesties
. And then I just added a few pearls from my stash - I didn't want to cover the beautiful DP too much and then also to make sure that this cute new image were in the center.
Here's a close up of the image:
Hope you like them - and for those of you that didn't see my other post with
Daydreeming Peeker
- you find the post
HERE
.
Now hop over to our supertalented
Crystal's blog
- to see what she's been up to.
Well - as always - looking fwd to hear from you before you pop over to the
SCACD store
and grab these cuties. Happy shopping everyone!
Kramis - Anki